The upcoming online slot tournament at Omni Casino is called the $15,000 Marvelous lll Slot Tournament. This is an exclusive online slot tournament which features Omni's Marvel-themed pokies and it is scheduled to take place between April 15th and 30th, 2013.
Some of you may have played in the previous Marvel Tournaments here at Omni Casino, but for those who haven't, the details are explained here. This is a multi-level slot tourney which caters for three different bet ranges. The lowest bet range is AU$0.45 - $1.49 per spin. The next bet range is AU$1.50 - $3.99 per spin and the highest bet range is AU$4.00+ per spin.

This basically means that whether you are a low roller or a high roller, you will have a chance of winning some kind of prize. Entrance into this slot tourney is free and automatic. All you need to do is play on any of the Marvel-themed pokies in the real cash mode between the selected dates. The earlier you start paying, the more chance you will have of being able to win a cash prize.
When you place one spin on any 15-40 paylined pokie with a AU$0.45 (or more) bet per spin, you will earn one tournament spin point. The tournament prize which you are eligible for winning will be based on your average bet-per-spin throughout the tournament. You can check out the current leaderboard each Monday, Wednesday and Friday. The leaderboard will appear in the main casino lobby.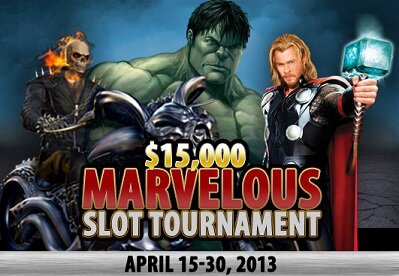 All players that happen to land on a special Marvel ranking position when the rankings are published will earn themselves a special AU$30.00 Marvel Hero Prize. Check out the first update to this leaderboard on 17th April. Additional leaderboard updates will then appear on April 19th, 22nd, 24th and 26th.
There is also an additional prize for players who accumulate more than 110,000 spin points throughout the duration of the entire tournament. If you are one of these players, you will win a AU$200 prize, but if you manage to earn in excess of 150,000 spin points, you will be awarded a AU$400 prize.
Omni Casino is powered by downloadable and non-downloadable Playtech software and it is fully licensed in the Netherlands Antilles. Australian dollars are accepted here, plus there are several trusted online casino banking methods available for Australian players, which can be found in the cashier section.